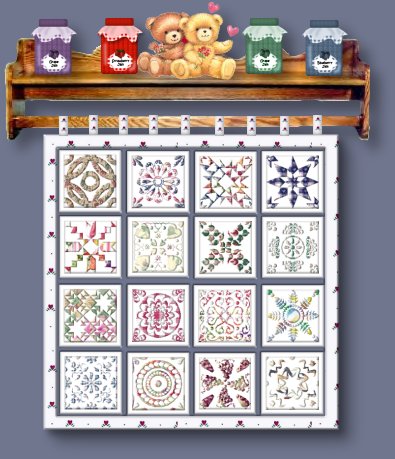 Feel free to take any of my quilt squares. Please link to http://magnolialanequilts.tripod.com
If you would like to leave me your square just Email it to me with your link.
A-F
G-L
M-R
S-Z
Angels, Animals, Anime, Actors, Autumn, Birthday, Birdhouses, Birds, Bears, Bunnies, Bugs, Cats, Cartoons, Children, Christmas, Country, Carosels, Cows, Dogs, Easter, Floral, Food, Fantasy, Frogs, Father's Day
Graduation, Holidays, Halloween, Mice, Houses, July 4th,
Medieval, Memorial, Mother's Day, Memorial Day, Pigs, Movies, New Years Day,Religious, Requested
Spring, Summer, St. Patricks, Snowglobes, State, Sewing, Thanksgiving, Valentine, Victorian, Winter

Quilters Nook
Site Map
Home
Guestbook
Email

Background Set byKeene Kreations. All rights reserved.